500 € TTC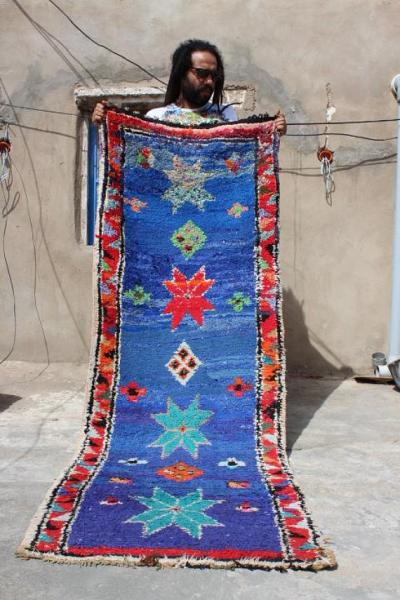 There are an increasing number of western and high street mass-produced versions of Moroccan rugs, but if you purchase an actual Berber rug, sourced in the villages, you'll have a piece that's one of a kind.
The best Moroccan rugs have unique design characteristics, arising from a peasant craft mostly undertaken by women. This blue Berber Amazigh runner rug has it all unique symbols and colors, each symbol has a meaning and story behind.
the blue colors means the security and trust of the berber tribes the red color in the corner means the joy and celebration.
it 's not just a simple rug, a piece of art !

Africancreates

225 élément(s)
à Rabat



Berber for 'HOME' | Beautiful and unique Rugs from Morocco. 📢 Wholesale: Email us.
sales@africancreates.com
WE SHIP WORLDWIDE

Région : Autre
Departement : Autres / Indéfini (AU)

Contact Africancreates, Rabat Morocco Amine Mounir

Adresse :
Lot Ek kheir hay haj kacem N716 CYM Rabat Maroc
Rabat
Tél. 00212613368458


https://www.africancreates.com



Partage réseaux sociaux :

- Facebook
( 121 visites depuis le 07/02/2017 )